The Redondo Beach Marina, BOAT HOIST is one of only a handful of public hoists along the California coastline. It is the choice of many boaters who prefer the convenience of having a skilled operator launch their boat mechanically and safely via slings.
The Boat Hoist is a mere 100 yards from the harbor entrance and open ocean, and the Redondo Canyon begins a few hundred yards outside the breakwater. Rocky Point and the kelp beds off Palos Verdes are popular fishing grounds within minutes of King Harbor. At various times of the year, fishermen can pursue halibut, rockfish, sculpin, seabass, bonito, barracuda, and yellowtail.
Hoist your jet skis and private fishing boats for a day in the sun at the Redondo Beach Marina Boat Hoists. One 5 ton hoist make it easy and quick to be on the Pacific in no time flat.
Hand launch for your personal hand-carried watercraft is available at the Redondo Beach Marina,. Enjoy a day in the sun with your whole family.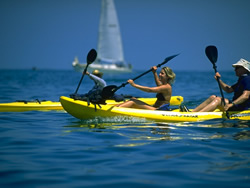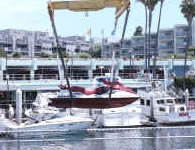 The five-ton hoist in Redondo Beach Marina, is capable of hoisting boats up to 10,000 pounds and 30 feet in length. The Boat Hoist is open every day of the year except Christmas, and winter hours are from 7 a.m. to 5 p.m. on weekdays and from 6 a.m. to 6 p.m. on weekends. The extended summer hours begin Memorial Day Weekend. The fee is for a round trip, and prices range from $8.00 for a hand launch size boat, personal watercraft – $18.00, for 18 to 24ft – $30.00, for 25ft and over $40.00. Late returns and stay-overs are sometimes available by prior arrangement for an additional fee. For further information contact 310-374-3481.
There are several double-spaced parking spots within Redondo Beach Marina, for the ease of parking vehicles with trailers attached, but in the summer it's best to start the day early, because the popularity of the harbor can limit parking availability in the peak summertime afternoon.
(round trip)
Hand Launch $8.00
Under 12' $18.00
12' to 17'11'' $23.00
18' to 21'11" $30.00
22' to 24'11" $35.00
25' & Over $40.00
Minimum Hoist Fee
$18
Late Return
$5.00
One-Way Hoist
$5.00 off
Parking
$4.00 for 12 hrs w/ hoist validation – $8.00 overnight per 24 hr. – Must pay at hoist ( NO un-attached Trailers )
Engine Lifts, Parts Lift, Hang In Slings, Blocking Hoist
While Staying Masts, Unusual Craft Hoists
$18 Per 10 Minutes – $1 Per Minute Thereafter
After Hours Emergency Hoists
(Additional Rates May Apply)
$75
Dock Side Ties – Up To 4 Hours
(After 4 Hours Overnight Rate Applies)
PWC's $5
Under 29′ $10
All Others $20
Overnight Dock Side Ties
Under 29′ $25
30′ to 40′ $30
Over 40′ $35
Summer Hours of Operation
May 25th through September 3rd
Monday – Friday 7AM to 6PM
Saturday, Sunday and Holidays 6AM to 7PM
Winter Hours of Operation
September 4th through May 25th
Monday – Friday 7AM to 5PM
Saturday, Sunday and Holidays 6AM to 6PM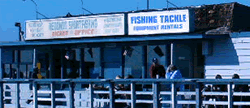 Other boater and fishing amenities within the harbor are a nearby fuel dock, marine hardware stores and a tackle shop operated by Redondo Beach Sport Fishing on the sport fishing pier in Redondo Beach Marina, which can supply fishermen with all needed tackle and equipment, including rental rods and reels, and fishing licenses. Pacific Live Bait operates a live bait barge right inside the breakwater, and most often have anchovies, sardines, or even the popular "candy bait", live squid, available in the baitwells.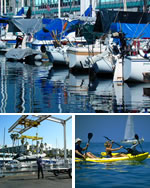 Get in contact with us to get more information about our installations and services.